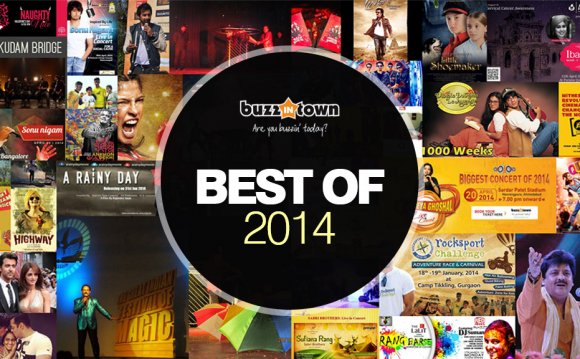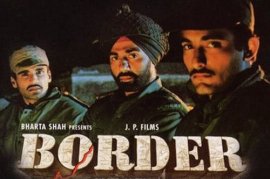 10. War – Border, 1997
History of Indian cinema suggest that Indian filmmakers are not fond of war, especially with hundred years old history, very few notable war films has been made and even fewer has succeeded at the box office.
People who survived the 70s would vividly remember the gruesome India-Pakistan war of 1971. In the direction of J. P Dutta, Border film recreated its major event—battle of Longewala that won India the war—an epic story of a battalion of one fifty soldiers from Punjab regiment led by Major Kuldeep Singh Chandpuri and their heroic retaliation against the tank regiment comprising two thousand armed Pakistani soldiers.
Film received amazing response from both audience and critics. Performance of cast, which included major stars like Sunny Deol, Sunil Shetty, Jackie Shroff, and Akshay Khanna, was highly appreciated. Film swept almost all major awards with in the country including National Award for best feature film on National integration.
9. Thriller – Baazigar (Gambler), 1993
Indian film industry has produced great thriller films but somehow never explored the genre enough. Some great classic were made in 50s and 60s like Teesri Manzil (Thrid Floor), Woh Kaun Thi (Who was she), Madhumati, C.I.D and many more.
Baazigar, a crime thriller directed by duo Abbas-Mustan, is an adoption of Hollywood's A Kiss Before Dying (1956). This film gave Shah Rukh Khan the ultimate breakthrough role of Ajay Sharma who avenges his father's death by killing and destroying lives. Actress Kajol and Shilpa Shetty plays sister who are betrayed and murdered by Ajay Sharma as part of his vengeance for their father Madan Chopra's inhuman deeds against his family.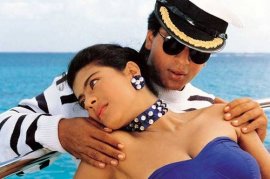 This film earned the Shah Rukh Khan his first ever FIlmfare Award and gave him the status of a superstar. Film was a commercial blockbuster and fourth highest grosser in 1993. In coming years, it received the status of a classic.
8. Science fiction – Mr. India, 1987
Indian film industry has not fared well for homemade science fiction films. In last decade, few films created buzz with special effects with films like Krissh and Ra One. However, these films only gained success due heavy-duty action and special effects but received criticism for their storytelling.
When it comes to classic Indian sci-fi flick, nothing beats Mr. India. Film was directed by Shekhar Kapur and starred—mesmerizing Sridevi, ever-energetic Anil Kapoor and super villain of Indian cinema Amrish Puri. Anil Kapoor plays street violinist who houses dozen orphans in his old rented house. Story gets interesting when he finds a watch that makes wearer invisible and he uses magical watch to fight against the evil man, Mogambo played by Amrish Puri.
Film is considered a cult classic and has gained a place in 100 Greatest Indian Films Of All Time. Famous Amrish Puri's Dialogue "Mogambo khus hua" (Magambo is happy) became synonymous with Amrish.
7. Romance – Dilwale Dulhania Le jayenge (Brave hearted gets the bride), 1995
No one beats Indians when it comes to romantic films that rave love, melodrama, songs, and dances. It is the staple for Indian cinema.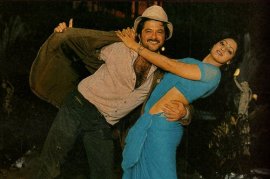 Dilwale Dulhania Le Jayenge (Link 4) or famously known as DDLJ was debut film for the master of romantic films director Aditya Chopra. Story is about a young couple—Raj and Simran played by Shah Rukh Khan and Kajol respectively—who falls in love on a European vacation. For Raj to marry Simran, he must win over Simran's parents who want their daughter to marry someone of their choice.
Film became an All Time Blockbuster and biggest Bollywood hit ever. During award season in 1996, it bagged 10 Filmfare awards, the highest ever for a film. Film also gained a place in "1001 Movies You Must See Before You Die", only second film to do so after Mother India. Film holds the record for the longest running film in the history of Indian cinema—crossing 1000 weeks at Maratha Mandir Theater.
6. Horror – Raat (Night), 1992
Indian cinema has produced good amount of horror flicks but most of them has Bollywood style of storytelling spiced up with songs and melodrama that somehow diminished the essence of horror. Few directors risked their careers by making unconventional films.
One of those directors is Ram Gopal Verma who is considered a weird genius. His horror film Raat is far away from conventional Bollywood flick. Film was original made in south Indian language Telgu but later dubbed in Hindi for rest of India. South Indian film actor Revathi plays Manisha Sharma aka Mini who is possessed by a ghost from her basement. A woman who was the previous owner of the house was murdered brutally in the basement and since than her ghost haunts the residents of the house.
Direction of Ram Gopal Verma is stylist and was beyond its time. However, film was not popular due the lack of audience for the horror genre at that time. Many film buffs rate this film as one the best horror films in Indian Cinema.
5. Drama – Mother India (1957)
Though it's an over exaggerated melodrama, strength of an Indian film is in its drama. Be a commercial film or an art film, melodrama is hallmark of Indian cinema. With time, some changes have come but its India, old things never go out of fashion in India and majority of Indian cinema still strive on over exaggerated melodrama.
However, whatever may be the case with melodrama in Indian cinema, Mother India is highly rated classic. Oscar nominated film was directed and produced by Mehboob Khan. It was remake of khan's seventeen-year-old film Aurat (1940). It is the story of women's struggle for raising her two sons post her husband's death in a natural calamity. Character Radha is played by Nargis who stands for the high moral values of women in India.
It was India's first official entry for Academy Awards but it lost the Oscar by a vote. Nargis and director bagged the prestigious Filmfare Awards for Best Actress and Best director respectively. Film is also listed in "1001 Movies You Must See Before You Die".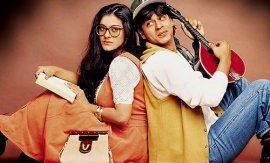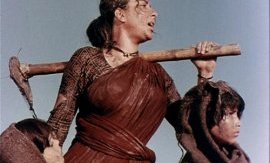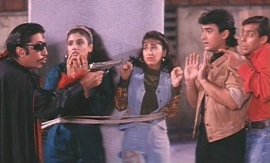 YOU MIGHT ALSO LIKE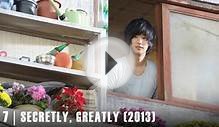 Top 10 Korean Action Movies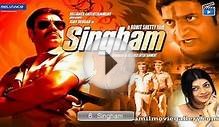 Top 10 Bollywood Action Movies - My Best Collection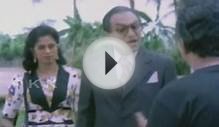 Top Secrets South Indian Telugu Movies | Romantic Telugu ...
Share this Post